Järvelä is located right on the edge of lake Vanajavesi inside the Vanajanselkä fishery area, which has an area of almost 10 000 ha. You can fish from the shoreline, from a pier or from a boat.
The map below shows the extent of the fishery area outlined in green. The areas of the lake where the lure licence is valid are shaded purple. Järvelä is marked with a red dot.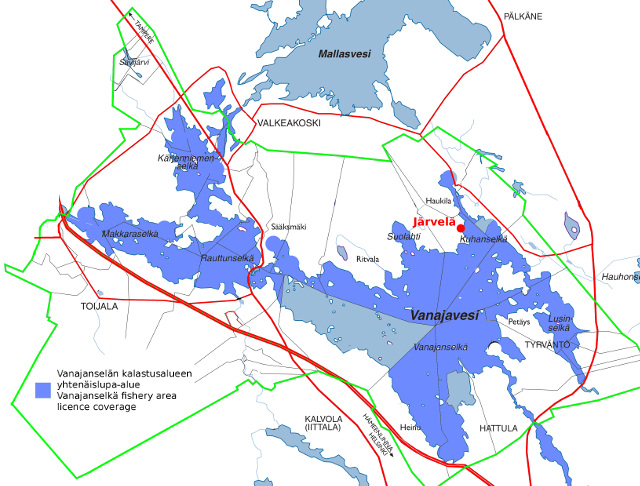 Map of Vanajanselkä fishery area (click the map to open a high resolution PDF version)
 
Fish species in the fishery area include: Zander (Kuha in Finnish), Pike (Hauki), European perch (Ahven), Asp (Toutain) and Rainbow Trout (Kirjolohi).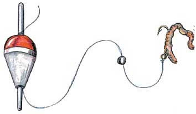 In Finland, bait angling using traditional simple fishing tackle (rod/pole, line, float, weight and hook, worm) and ice fishing are Everyman's rights. If you are staying at Järvelä, we can provide simple fishing equipment to let you try a bit of leisurely fishing; no licence or fees required.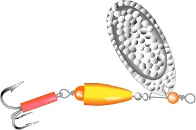 Within the Vanajanselkä fishery area, a licence is needed for lure fishing using the following fishing methods:
Spinning and trolling
Fly-fishing
One license entitles you to use up to two rods (one person can have multiple licences). In 2017, one licence costs 15 euros / calendar year or 10 euros / week.
In addition, a national fisheries management fee must be paid to the Agriculture and Forestry Ministry.
Licences and fees apply according to your age:
| Type of Fishing | Under 18 years of age or 65 years or over | 18-64 years of age |
| --- | --- | --- |
| Bait angling and ice fishing | No licence or fees | No licence or fees |
| Lure fishing: spinning or trolling with a rod | No licence or fees | National Fisheries Management Fee and Lure Fishing Licence |
You can pay for and print out the national fisheries management fee online. There is no need to buy any other licence online as you can buy the lure fishing licence in person at Järvelä.
General fishing rights are prohibited in rapids and currents of waters rich in salmon and whitefish (Coregonus lavaretus). According to the Fishing Act, these are waters used by these species as rising or wandering routes or where large numbers of them have been stocked. Salmon species include sea trout, lake trout, brown trout and rainbow trout.
Assisting persons such as rowers do not need a licence as long as they do not handle the fishing gear or catch during fishing.
The above is a summarised free-form translation of the definitive texts at http://vanajanselka.fi (in Finnish) and http://mmm.fi/fisheries/recreational-fishing. It is intended as a guide for visiting fishers so as to allow them to start fishing as smoothly as possible.
We also sell licences for fishing nets, creels, traps, long lines etc. for the local Mälkiänen village fishery area. These are only available to water-area shareholders and permanently-resident villagers.